April 5, 2019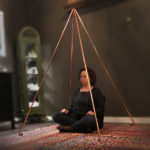 Enjoy the benefits and healing energy of a copper pyramid pretty much anywhere!
FOLDABLE
Our copper pyramids are foldable, so set-up and take down is a snap! (it literally takes seconds)
STORAGE COVER
They come with a protective cover, keeping it safe during storage and easy to transport anywhere.
TAKE IT OUTSIDE!
Try using your copper pyramid in different areas of your home, or take it outside on a beautiful day!
---