Chakra Nourishing Experience
Saturday, November 16, 2019 | 2:00 pm - 4:30 pm | $55
PRE-REGISTRATION IS REQUIRED
Event is limited to 8 participants
YOUR SEVEN VITAL ENERGY CENTERS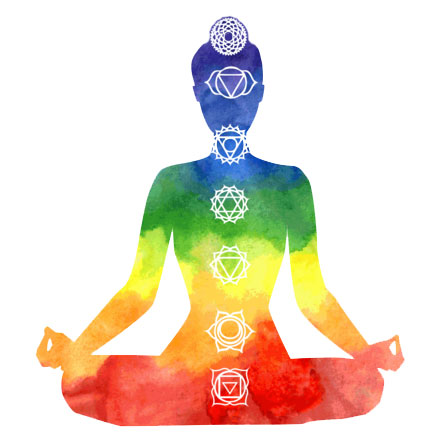 Our mental, physical and spiritual health is directly linked to how we perceive and experience the world around us. These energetic messages are processed through our chakras.
Blocked energy in any of these receptors can cause emotional and/or physical illness in the area of the body linked to that particular chakra.
Keeping our energy open and flowing, particularly in our chakras, supports our whole being and allows our consciousness to expand and connect to our highest creative potential.
WHAT TO EXPECT
This multi-sensory experience will engage and nourish each of your chakras, open pathways to deeper connection to your true self, and hold a space for your own inner wisdom to step forward.
The overall tone of this event is quiet and focused, holding a deep reverence for the magical beings that we are.
CONNECT WITH CRYSTALS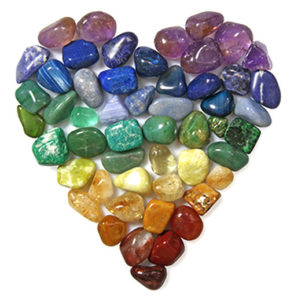 Crystals, minerals & gemstones hold unique vibrations that can be used to activate, open and balance specific chakra centers.
You will have the opportunity to experience this energy and select the crystals you personally resonate with. Your crystals will be used in a special mediation to support you in clearing and nourishing the energy of your chakras.
DISCOVER & EXPERIENCE

Learn how the seven major chakras are linked to various aspects of your physical being
Explore symptoms of overactive and/or under active chakra centers
Sense your own flow of energy in each of your chakra centers
Hands-on experience with the energies of different crystals and stones
Learn how to choose the right crystals for your specific intention
Work with crystals to support each of your chakras
Clear & release energy that is muddying the waters of your spirit
Drink water charged with crystals that specifically support your chakras
Expand your conscious perception
Enjoy deep relaxation and personal connection
GET COMFORTABLE…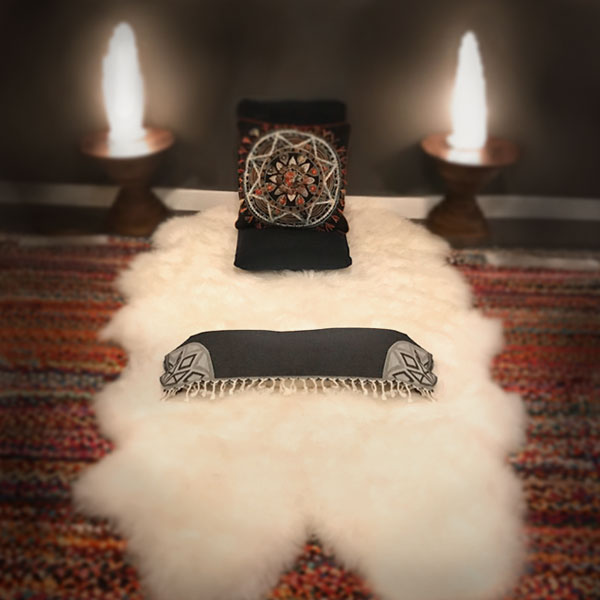 To keep our energy connected and grounded to the earth, we sit and lay on the floor during this event. Physical comfort items are supplied, so you don't need to be loaded down with any extra gear.
Come and allow yourself to be taken care of!
The following items will be prepared for each participant:
Cushioned back-jack to use when seated on the floor
Full length sheepskin to support your body while lying down
Pillow for head support
Neck bolster
Knee bolster
Lightweight organic body blanket
Weighted eye-pillow to deepen relaxation
* If you need any additional physical support, please let us know prior to the event.
TAKE THE GOOD VIBES HOME!
A SURPRISE FOR YOU…
At the close of your experience, you will receive a surprise chakra crystal to take home with you. It will come with an informational card with the name and some details about the energetic properties it holds.

I LOVE MY CHAKRA SET!
If you would like to continue working with your set of chakra crystals at home, you may purchase them at the end of the class for $45.
Each of your crystals will be paired with its corresponding crystal card and lovingly packaged in a special chakra box to keep them safe and secure.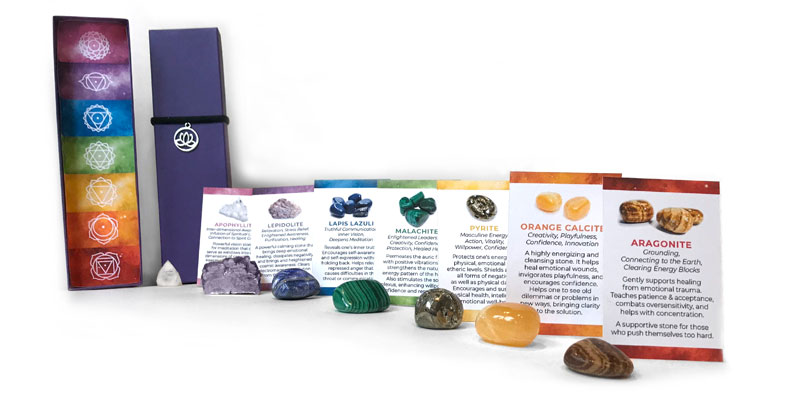 ---
OUR ENERGY STUDIO IS SPECIAL
When you step into Expanding Spirits Energy Studio, you will immediately feel the stress of life melt from your body. We have curated a little piece of heaven on earth to help you experience the deep relaxation and rejuvenation that is your birthright.
Our studio is a sacred space that has been gridded energetically and physically to protect against electromagnetic waves, and dirty energy. Void of distraction, you will move into the NOW moment and feel the power of being fully present with yourself.
Every detail of your experience has been considered and you will feel that when you are with us. From the moment of your arrival, until you depart, our attention is completely focused on creating the most beautiful experience possible for you.