Copper Pyramid
$250.00
Enjoy the benefits and healing energy of a copper pyramid pretty much anywhere!
FOLDABLE
Our copper pyramids are foldable, so set-up and take down is a snap! (it literally takes seconds)
STORAGE COVER
They come with a protective cover, keeping it safe during storage and easy to transport anywhere.
TAKE IT OUTSIDE!
Try using your copper pyramid in different areas of your home, or take it outside on a beautiful day!
In stock
Description
PYRAMID POWER
The pyramid structure is one of the greatest receivers and amplifiers of cosmic energy. They are known to enhance and increase the vitality of anything placed underneath and inside of them.
COPPER ENERGY
As one of the most effective energy conductors, copper attracts many beneficial Earth energies. It emits the highest vibrational frequencies and is known as one of the most healing metals.
Using copper as the structure of the pyramid amplifies the benefits of both naturally occurring energies.
WHAT'S HAPPENING INSIDE?
Holding a solid, grounding layer of energy at the bottom, the pyramid shape moves energy upward through the top. Meditating inside this flow of energy can lead to some pretty powerful healing and out of body experiences.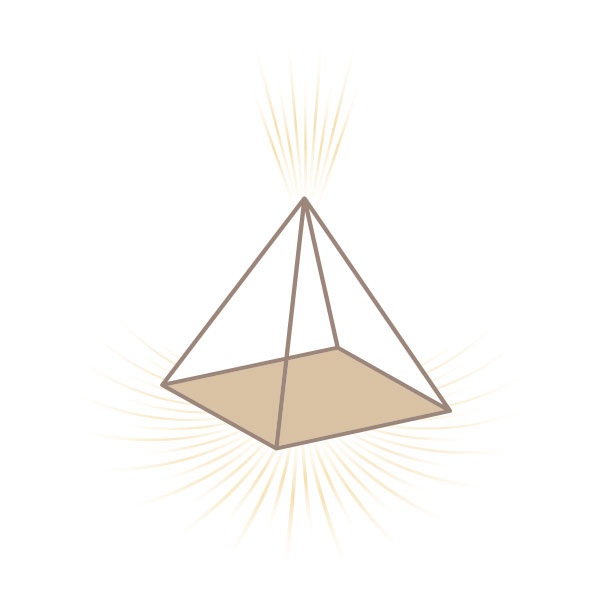 The following are benefits associated with the regular use of copper pyramids:
PHYSICAL
• Lowering Blood Pressure
• Increasing Energy Levels
• Detoxifying the Blood
• Strengthening Overall Healing
EMOTIONAL
• Promoting Positive Thinking
• Clearing Unhealthy Thought Patterns
• Encouraging Self-Development
• Reducing Stress
• Deepening Relaxation
SPIRITUAL
• Strengthening Inner Guidance
• Increasing Connection with Nature
• Deepening the Sense of Unity